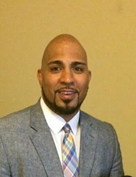 Allied Churches of Alamance County is excited to announce the appointment of Richard G. Gary as its new Executive Director. Gary was selected by the board of directors because of his extensive experience in nonprofit management, programming, team development, and community relations. Richard will start April 3.
"Richard brings the talent, experience and passion that is so critical to working with our community to deliver on our mission and move our organization into the future," said Beth Warner, Allied Churches board chair.
A resident of McLeansville, Gary has more than 16 years of experience serving the community. Most recently he served ResCare Community Alternative in Winston-Salem, NC as Operation Manager for Periodic Support Services. He has also held leadership positions with Danville Pittsylvania Community Services in Danville, VA; Southside Community Service Board in South Boston, VA; Orange Grove Centers in Chattanooga, TN, and FHCA Cumberland Hall Primary Treatment Center in Chattanooga, TN.
"I'm passionate about helping people make positive changes in their lives," said Gary. "Together with the team at Allied Churches we will put that passion to work as we strengthen the organization's infrastructure, build community relationships, and promote ongoing collaboration with government agencies and leaders to find solutions that reduce and eliminate homelessness and food insecurity in Alamance County."
Gary earned a Master of Arts in Executive Leadership and a Master of Arts in Human Services Counseling/Business from Liberty University, and a Bachelor of Education from The University of Tennessee at Chattanooga. He has also earned a Duke Nonprofit Management certificate.